Alyssa, Water Ecuador's vice president, was published on Ben Starr's blog about food and travel yesterday, 8/11/13. Here's the full post:
http://benstarr.com/blog/guest-post-ecuador/
And here are some excerpts from what Alyssa wrote:
…I found Ben's blog, as I imagine many of you did, during his stint on MasterChef.  And I have followed it the two years since because it is witty and warm and chock full of rustic recipes.  I also stayed because I see eye-to-eye with Ben on a lot of matters: namely, that we should all strive to live a full, rich, wide-open life with integrity and that food is a wonderful way to connect with people.  So I reached out to him, thinking that this might be a wonderful opportunity to reach a community who might be interested in my own adventures with food – and water…

…One of my favorite ways to get to know people has been to cook with them (using Water Ecuador water, of course).  Everyone has to eat…. Some of the recipes are complicated or rely on regional ingredients, but one of my favorites this year was a simple helado (ice cream) that we made for a birthday celebration.  Heriberto, the organization's Ecuadorian President, and his wife Egnis, insisted that we make it – and it was just delicious, easy, and didn't require an ice cream machine.  Little Felipe, age 20 months, enjoyed it quite a bit.
Helado de Heriberto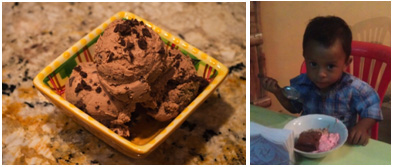 2 c heavy whipping cream (if you don't like it too creamy, I'm told you can substitute about a half cup of whipping cream for milk, but I haven't tried it this way so beware)
seeds from 1 vanilla bean (or substitute 2 tsp of your favorite extract – vanilla, almond)
3/4 c sweetened condensed milk
optional add-ins:
3 tbsp cocoa powder and 1 c chocolate chips
¼ c strained fruit puree
1/3 c peanut butter
Whip the cream and vanilla (in a mixer, blender – which is what we used in Ecuador, or by hand), until medium peaks form – the more you whip, the airier and more mousse-like the end product.
Add in sweetened condensed milk and whip until combined.
Add in any add-ins.
Freeze for 4 hours or until firm…if you can wait that long.
…Even when I am back home in the US, when I think of the water crisis, I think about little Felipe, and how I would do anything to keep him healthy, of the people who laughed with me in the kitchen as we fried plantains and grilled fish, of all of the mothers and fathers who have told me of their stories and the struggles they face everyday in keeping their kids clean and healthy, of the teenagers who shared their hopes to go to a university or start a business.  And then the hard work seems worth it, and every small step matters.
If you read this post and want to learn more about Water Ecuador, we would absolutely love your support in any way – whether you like us on Facebook, follow us on Twitter, join our email list (we promise we never share your info!),make a financial contribution, or want to volunteer some time.  Feel free to email me at abilinski@waterecuador.org if you have any questions or want to learn more.  And even if you have no interest in water, consider finding another way you can draw the circle of your family a little bit larger.  You may just like what you find.